Questions & answers about renting movies from the iTunes Store
If you own an Apple device, iTunes is maybe the simplest and most flexible way to rent the movies you want to see the most. But, like everything, there are rules for iTunes Movie Rentals. Learn all about them here.
How to rent movies on iTunes?
Before start, you'll need the following:
The latest version of iTunes (to rent on a computer)
The latest version of the iOS (to rent on iPhone, iPad and iPod touch)
The latest version of tvOS (to rent on Apple TV)
Open the latest version of iTunes on your computer and look through the Movies section of the iTunes store. Once you find a movie you'd like to rent, click on it. So many users asked where the rentals tab in iTunes is. If the movie is available to rent, the Rent tab will appear under the option to Buy. Click on the rental price and enter your Apple ID password if required.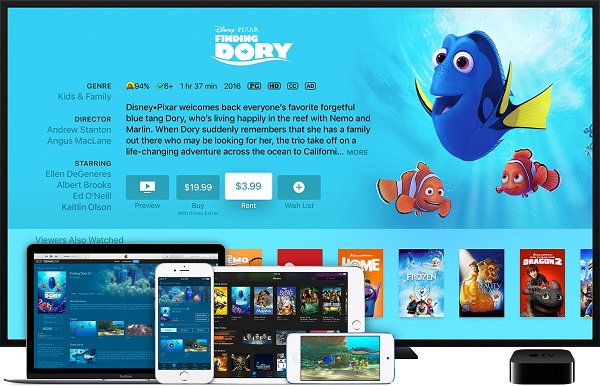 What does an iTunes Rental cost?
There are a number of factors that determine what an iTunes rental costs, including how new the movie is, whether the movie has hit theaters or not, whether it's a special promotion, and if it's high definition or standard definition.
The latest movies: usually US$5.99-$6.99
Regular movies: $3.99-$4.99
Special promotions: $0.99
Movies currently in theaters/digital release only: $6.99-$9.99
Standard definition: $2.99
How to watch iTunes rented movies?
To watch your rented movies from iTunes, you'll need:
iPhone, iPod touch, or iPad running iOS 3.1.3 or higher
Apple TV
Mac or PC
iPod Classic
iPod nano (3rd-5th generations)
If you rent a movie from iTunes on your Mac or PC, you can watch it on your computer or sync it to your iPhone, iPad, or iPod. You can sync your iTunes rental back and forth between your iOS device and computer, but it can only be on one device at a time. If it's on the computer, you'll see a tab for Rented Movies you can click on.
Will iTunes movie expire while watching?
Yes. After you start to playing the rented movie, you have just 24 hours to finish it (in the U.S.; it's 48 hours in the rest of the world). If you don't finish watching in that time, the movie will expire and you'll need to rent it again. On the up side, you can watch the movie as many times as you'd like in that period. Besides, you have 30 days from the day you rented the movie to watch it. If you don't watch the movie in that 30-day window, your rental will expire and you'll have to rent the movie again.
How to download a rented movie from iTunes?
Some iTunes movies have the option to stream and can be played immediately. Other movies must be at least partially downloaded in order to start playing them. And of course, if you want to watch the movie offline, you will need to download it completely first. After you have tapped or clicked Rent, you can download the movie to your device by tapping or clicking the download icon (the cloud with the down arrow).
Where to Find the Movie You Rented on iTunes?
Where to find iTunes rentals on Mac or PC: iTunes rentals can be found in the Rentals tab of the Movies section in the iTunes Library on your computer.
Where to find iTunes rentals on iPhone, iPad, or iPod: Once the iTunes movie rental has downloaded, it's available in the Library section of your TV app on your iOS device under Rentals. Previously, iTunes movie rentals were located in the Videos app, but that app is no longer available for users of iOS 10.
Where to find iTunes rentals on Apple TV: On 2nd and 3rd generation Apple TV, iTunes rentals can be found in the top shelf of the main menu. On 4th generation Apple TV, iTunes rentals can be found in the Rentals tab in the Movies app.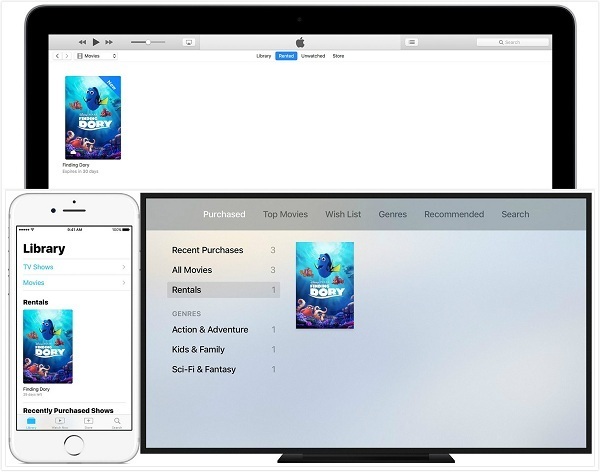 Recommendation: Keep iTunes Rentals forever by using M4V Converter Plus
Renting movies from iTunes Store is easy and cheap. But you can be only allowed to play on Apple devices in limited time. You can't keep the rented movies forever and can't share the rented iTunes movies with others freely.
If you want to keep iTunes rent movie for longer time, you can go to try M4V Converter Plus. It is a professional iTunes Rental Converter, which can remove DRM protection by converting iTunes rented movies to unprotected video formats like MP4, MOV, AVI, WMV, MP3, FLAC, etc. In this way, you can transfer the converted iTunes movies to android tablets, game console and other mobile devices for playing at will. You will find the main functions of M4V Converter Plus.
M4V Converter Plus can get rid of DRM protection from iTunes Rentals legally.
Besides iTunes rent movies, it can also support converting iTunes purchased movies, TV Shows and music videos.
It can convert DRM-ed M4V files to unprotected MP4, MOV, AVI, FLV, WMV, VOB, MPEG, etc.
Extract audio files from iTunes videos and save as MP3, AAC, WMA, FLAC, M4A, M4R, etc.
Compatible with Mac OS X 10.8 or later or Windows 7/8/10 with the latest iTunes installed.
Related Topics