Movie rental time limit: 24 hours not enough! If I am in the middle of watching a movie and the 24 hour limit is up, does the movie just quit or will it keep playing until it's finished? And is it just me, or is 24 hours not long enough? Suppose at 7:00 I decide to rent Cinderella for the kids, but by 8:00 they're all asleep. They'll have to wait until the next night to watch it, but unfortunately when the clock strikes 7, the rental, like Cinderella's coach disappears. It might play to completion if I start it at 6:59, but if I wait until 7:01 to continue it, I'm SOL David Krug asked at Apple Communities
Many users might run into the same problem like David Krug. The iTunes rented movies are only available on a single device or computer at a time. Keep in mind, if you rent it on your computer, you can sync it to either your iPhone or iPad, but then it will disappear from your computer. What was worse, you only have 24 hours (in the United States) or 48 hours (elsewhere) to finish it after you start playing it. If you don't finish watching in that time, the movie will expire and you'll need to rent it again.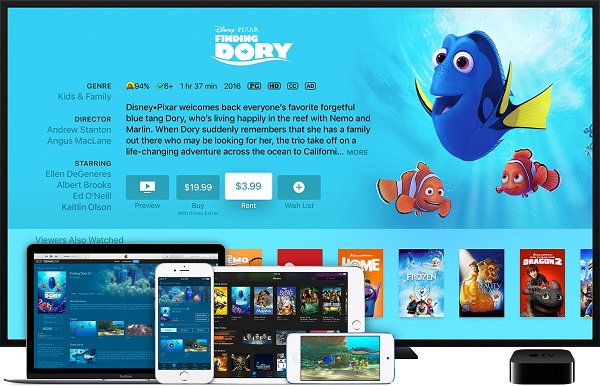 Why there is 24-hours limitation on iTunes rented movie
As we all know, the movies you rented from iTunes Store are protected by Apple DRM Fairplay restriction. Due to DRM, you can only watch iTunes rented movies once on an Apple device. If you download a rented movie on your computer, you can transfer it to your Apple TV, iPod, or iPhone. Once you move the movie from your computer to a device, the movie will disappear from your computer's iTunes library.
This is too inconvenient. There might be more people who want to remove DRM and extend iTunes Rental period beyond 24 hours like David Krug. Here we will provide an all-in-one iTunes Rental Converter - M4V Converter Plus to help you. It can get rid of DRM from iTunes rented movies easily and convert them to unprotected MP4, MOV, AVI, WMV, FLV, SWF without any quality loss. In this way, you can keep iTunes rented movies for longer time as you need.
Now follow the easy guide below to learn how to convert iTunes Rentals to MP4 for keeping rented movies forever.
Simple Solution to Remove limitations from iTunes rented movies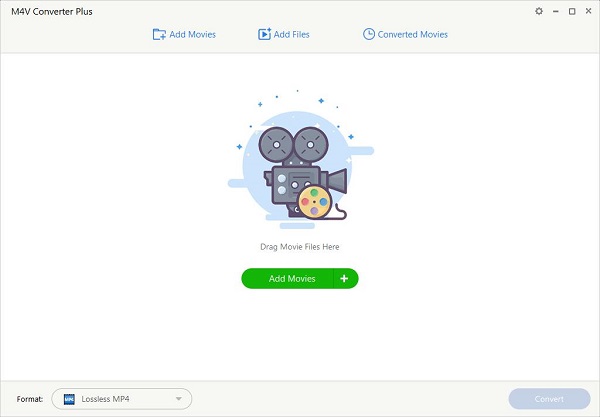 1. Free download M4V Converter Plus, install and launch it on your computer.
This guide is for Windows users, Mac users can find the detailed tutorial here. This iTunes Rental Converter has a trial version, you are allowed to free convert one minute for each iTunes file.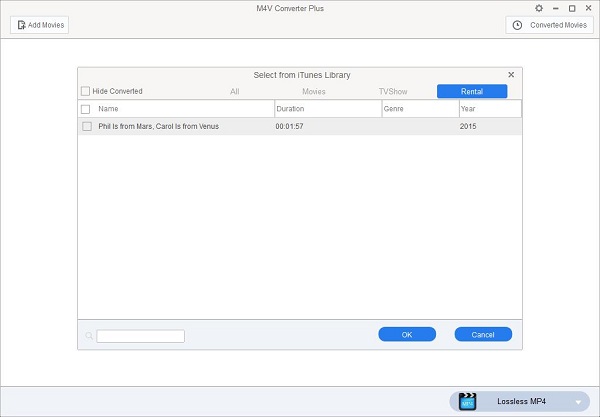 2. Import iTunes videos you want to convert to the program.
Click Add Movies button to import videos from iTunes library. It will pop up the adding window, you can search the movie you want to convert. And you can select the rented iTunes movies from the Rental section.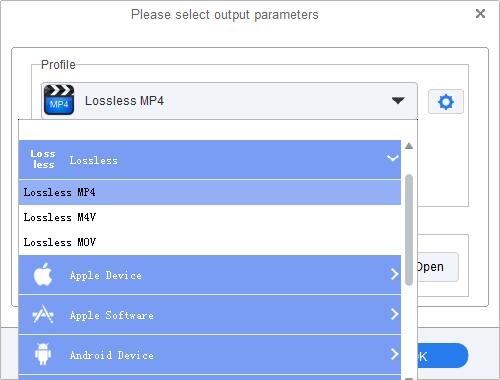 3. Set MP4 as output format.
The iTunes rented movie will show up on the main panel after added. Then you can select the default output format Lossless MP4 from the blue profile panel.
4. Remove DRM and Convert iTunes rented movies.
After all the settings, you can click the profile again to start iTunes rented movies to MP4 conversion.
Related Topics