Available free on the Mac App Store, iBooks Author is an amazing app that allows anyone to create beautiful iBooks Textbooks - and just about any other kind of book - for iPad and Mac. The app has been beautifully redesigned for OS X Yosemite. With galleries, video, interactive diagrams, 3D objects, mathematical expressions, and more, these books bring content to life in ways the printed page never could.
Video and audio bring any subject matter to life, anywhere on the page. If you want to add the iTunes movie clips to iBooks Author, you need to know DRM is a broad term used to describe a variety of techniques for restricting the free use and transfer of digital content. So you must remove the Digital Rights Management (DRM) firstly.
M4V Converter Plus is a great DRM remover to get rid of DRM. And it is an amazing converter which provides a lots of output formats including iBooks Author. In additional, you can custom the video duration to get the clips with M4V Converter Plus. All your needs can be supported by M4V Converter Plus.
Steps to get iTunes movie clips to use on iBooks Author with M4V Converter Plus
Step 1. Download M4V Converter Plus, install and run on your Mac.
Step 2. Add iTunes movies to M4V Converter Plus
Click Add Movies button and choose a movie listed in the popup window. Then click Add.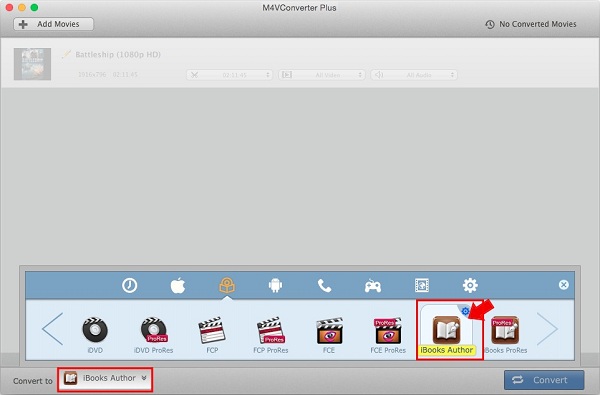 Step 3. Choose the format "iBooks Author".
Click Convert to drop-down list and set the iBooks Author format as output format.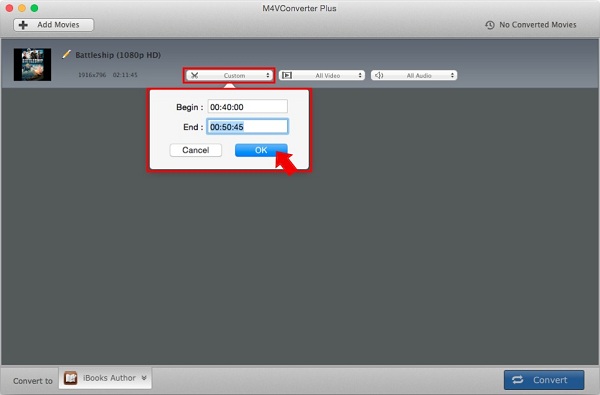 Step 4. Clip iTunes movie.
Click the time setting box, choose the Custom option and input the value in the Begin/End box. Then click OK to clip the movie.
Step 5. Start conversion on Mac.
Click Convert button to open the converting box and start converting.
After converting is done, you can find the output in the history list. With M4V Converter Plus, you can give readers to experience more wonderful iTunes movies on iBooks Author.
Related Topics